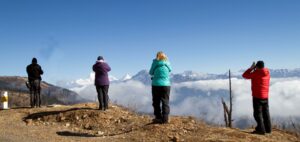 The mystical Himalayan Kingdom of Bhutan, landlocked between the high Tibetan plateau to the north and the lowlands of India to the south is no 'ordinary country' and is still largely undiscovered. In just 150 miles, between Gangkhar Puensum, the worlds' highest unclimbed mountain, standing 24,840 feet above sea level on Bhutan's northern border, and the Drangme Chu valley, where the Manas River flows into India, the land drops by a staggering 24518 feet! Such a steep drop in altitude bestows upon Bhutan a dramatic range of climatic zones and ecosystems, making it a global biodiversity hotspot, home to almost 900 species of butterfly, around 680 bird species, most of which are residents, and some 200 different mammals, including Asian Elephant, One Horned Rhinoceros, Tiger, Clouded and Snow Leopards, Sloth Bear, Red Panda and the strange Takin, a large goat-like creature, which is Bhutan's national animal. This is an extraordinary variety for such a small country, which, thanks to its gentle Buddhist traditions, has designated more than half of its land as protected areas for nature, earning acclaim by the IUCN. 70% of the land is forested, representing the best remaining forests in the Himalayas, intersected by a network of swift flowing rivers, carving steep sided valleys into the stunningly beautiful scenery.
Travelling from east to west, this comprehensive tour, accompanied by an experienced local guide provided by Wild Nature Quest, takes us from an elevation of 492 feet on the border with Assam, to the spectacular Chelela pass at over 12700 feet! Along the way we visit all the main birding sites including the breathtaking Limithang Road, ranked number 11 in the Top 100 Birding Sites of the World! This premier route climbs through pristine forests from 2132 feet to the Phrumshingla pass at 12,309 feet, in less than 62 miles! Along this amazing journey we travel at a comfortable pace and can hope to see all the key species among around 300 different birds, including fourteen species of laughingthrush, five different parrotbills and four stunning pheasants, like the stupendous Satyr Tragopan and Himalayan Monal, plus Ibisbill, Ward's Trogon, Yellow-rumped Honeyguide, Fire-tailed Myzornis, the highly sought Beautiful Nuthatch and many more avian gems. We can also hope to see ten to fifteen different mammals such as Himalayan Goral, Yellow-throated Marten, Himalayan Giant Squirrel and the near endemic Golden Langur, while cultural highlights will include a visit to the magnificent seventeenth century riverside Punakha Dzong (Palace of Great Bliss) and the iconic Taktsang Dzong (Tiger's Nest Monastery) which clings precariously to a rock face 900 feet above the valley below! With so much to see, this land of superlatives should be on everyone's 'bucket list'.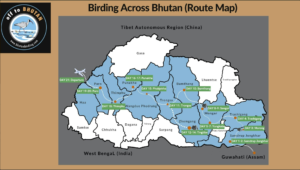 Day 1 We depart Heathrow at 7pm on an overnight flight with Virgin Atlantic to Delhi.
Day 2 We arrive in Delhi at 9.20am and transfer to the nearby Hotel Emerald Park. From here a visit to the Okhla Bird Sanctuary on the outskirts of Delhi can be arranged if required but is not included in the tour price. The reserve is a wetland with a list of over 320 birds including Bar-headed Goose, Knob-billed, Indian Spot-billed and Lesser Whistling Ducks, Indian Pond Heron, Red-wattled Lapwing and White-throated Kingfisher.
Day 3 We depart Delhi at 9.40am on a Vistara flight to Guwahati in Assam, where we meet our local guide and driver at 12.05pm for a three hour transfer north across the Brahmaputra floodplain. Along the way we can look out for impressive Greater and Lesser Adjutant Storks as well as Asian Openbills plus Purple Swamphen, Pied Harrier, Paddyfield Pipit, Asian Pied Starling, Bank Myna and Ashy Woodswallow. At Daranga, we cross the border into Bhutan and check in to the Menjong Hotel in Samdrup Jongkhar at an altitude of 492 feet.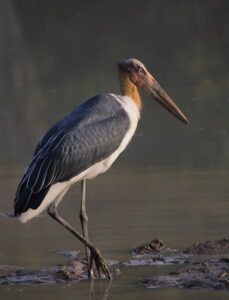 Lesser Adjutant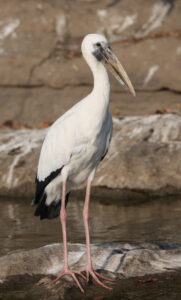 Asian Openbill
Day 4 We explore the road from Samdrup Jongkhar as far as Dewathang, which climbs over 1000 feet in just 11 miles! The subtropical evergreen forest here is good for many lowland species which we may not see elsewhere on the trip such as Red Junglefowl, Wreathed and Great Hornbills, Mountain Imperial and Pin-tailed Green Pigeons, Rufous Woodpecker, Rufescent and Ashy Prinias, Black-naped Monarch, Black-crested, Ashy and Red-whiskered Bulbuls, Gold­en-fronted Leafbird, White-rumped Shama, Sultan Tit, Asian Fairy Bluebird, Dollarbird, Crimson Sunbird, Little Spiderhunter, Yellow-vented Flowerpecker, Common Iora and Jungle Babbler. Along the way, the stony rivers may offer Blyth's Kingfisher, Black-backed Forktail, Brown Dipper and Plumbeous Water Redstart. After a productive day we return to the Menjong Hotel.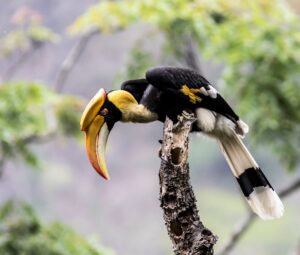 Great Hornbill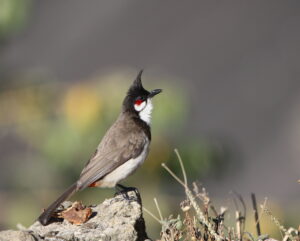 Red-whiskered Bulbul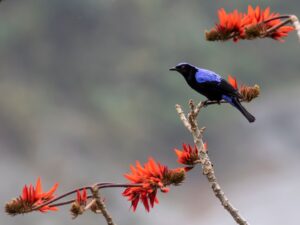 Asian Fairy Bluebird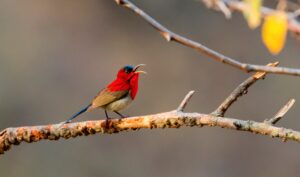 Crimson Sunbird
Day 5 We begin our journey into the mid altitude forests, ranging from subtropical to cool broadleaved forests, where some of the birds we can expect include Rufous-necked Hornbill, Long-tailed Sibia and Silver-eared Mesia plus Greater- and Lesser-necklaced Laughingthrushes.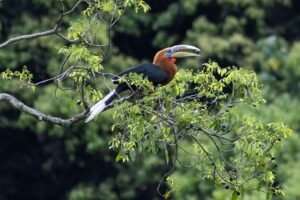 Rufous-necked Hornbill
By lunchtime we reach our next base for one night at Morong Tented Camp, at an altitude of 4900 feet, where we meet our camping crew who will be with us for much of the trip, setting up camps and cooking meals. This afternoon we explore the mid altitude broadleaved forest in search of one of the main targets of the trip, the highly sought and aptly named Beautiful Nuthatch. Other interesting birds here include Black-faced Warbler, Blue-winged, Striated and Bhutan Laughingthrushes and Scarlet Finch.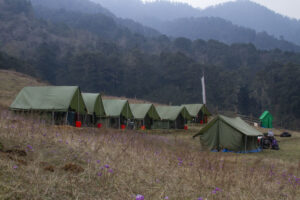 A typical tented camp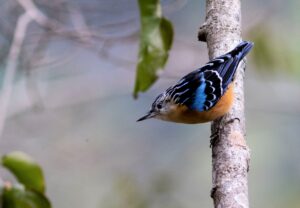 Beautiful Nuthatch
Day 6 If necessary, we have a pre-breakfast outing to look again for the Beautiful Nuthatch. After breakfast, we begin a scenic six hour drive north via the Kharungla pass to Trashigang, passing through lofty forests and lush Rhododendron-filled valleys, with several birding stops along the way in search of interesting birds like Rufous-breasted Accentor, White-throated Laughingthrush, Coral-billed Scimitar Babbler, Red-faced Liocichla, Golden-naped Finch and the much sought after Ward's Trogon.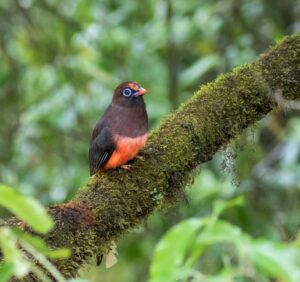 Ward's Trogon
In the late afternoon we reach the National Handloom Development Project in Khaling where visitors can see woven table runners, scarves and traditional dresses called Kiras. We continue our journey through a series of pine-clad slopes to Trashigang, in a steep wooded valley where the scenic Trashigang Dzong monastery overlooks the confluence of the Drangme Chu and Gamri Chu rivers at an altitude of 3694 feet. Our base for the night here is the Druk Deothjung Resort, where local birds include Mountain Hawk Eagle, Bay Woodpecker, Yellow-breasted Greenfinch and Tibetan Siskin.
Day 7 We have a five hour drive west to Yongkala, firstly along the Drangme Chu river, on the lookout for Himalayan Bulbul, Striated Prinia, Blue-capped Rock Thrush, Green-billed Malkoha, Long-tailed Minivet, Wallcreeper and flocks of White-crested Laughingthrushes amongst others. This is also one of our best chances to spot the goat-like Himalayan Goral. By late morning we reach the beautiful Korila pass at 7893 feet, with a Buddhist stupa decorated with prayer flags. After a picnic lunch here, we descend through a beautiful mid altitude forest, rich with mosses, lichens and Rhododendrons, where possible birds include Darjeeling Woodpecker, Chestnut-crowned Laughingthrush, Grey-winged Blackbird, Fire-capped Tit, Russet Bush Warbler, Yellow-billed Blue Magpie, Rufous-winged Fulvetta and Spot-winged Grosbeak, with another chance for the rare Ward's Trogon. The rest of the afternoon will be spent birding above the town of Limithang in a mixture of scrub, farmland and subtropical forest where we may find Black-tailed Crake, Grey-headed Woodpecker, Greater and Lesser Yellownapes, Rufous-necked Laughingthrush and Black-chinned and Striated Yuhinas. Journey's end is Trogon Villa, a cosy ecolodge near Yongkala at an altitude of 3937 feet, where we will be based for three nights.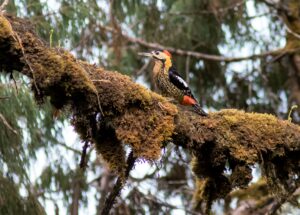 Darjeeling Woodpecker
Days 8 & 9 We have two full days to explore the fabulous Limithang road, all the way to the Phrumshingla pass, which at 12309 feet is the second highest in Bhutan! This 48 mile convoluted stretch of road passes through beautiful Phrumshingla National Park, and with such a dramatic change in altitude and habitats along the way, is one of the finest birding sites in Asia. Some of our targets here include Himalayan Cutia, Golden-breasted and Yellow-throated Fulvettas, Grey-headed and Black-throated Parrotbills, Golden Babbler, Black-eared Shrike Babbler, Pygmy Blue and White-gorgeted Flycatchers, Streaked Spiderhunter and Yellow-rumped Honeyguide. We also have further chances of seeing Ward's Trogon and Beautiful Nuthatch. As well as these exotic birds, the forest here also hosts more secretive exotics such as Hodgson's Frogmouth, Blue-naped Pitta, Pygmy Cupwing, Slaty-bellied Tesia, Rufous-throated and Long-billed Wren Babblers and Himalayan Wedge-billed Babbler.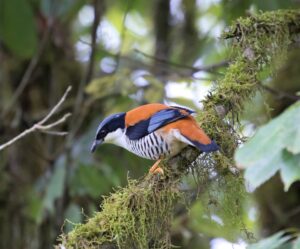 Himalayan Cutia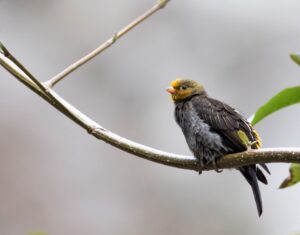 Yellow-rumped Honeyguide
Black-throated Parrotbill
Day 10 After a final morning birding this wonderful area, we have a two hour drive northwest on another narrow winding road in search of higher altitude species like Black-headed Shrike Babbler, Mrs. Gould's and Green-tailed Sunbirds, Fire-tailed Myzornis, Hoary-throated Barwing and Scaly Laughingthrush.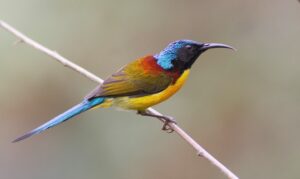 Green-tailed Sunbird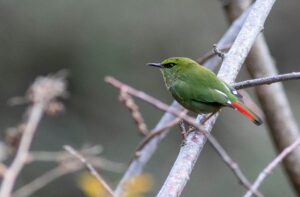 Fire-tailed Myzornis
We arrive at our next camp in time for lunch in a large open meadow near Sengor village and spend two nights here at an altitude of 9842 feet. After lunch we visit a new habitat consisting of Spruce, Hemlock, Fir and Rhododendron where we are likely to see new birds like Rufous-vented, Yellow-browed and Grey-crested Tits, Slender-billed Scimitar Babbler and Spotted Nutcracker. Sengor is also a site for one of the most striking birds of the trip, the Satyr Tragopan, and we will make a special effort to find this amazing pheasant.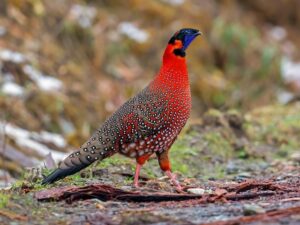 Satyr Tragopan
Day 11 We have a pre-breakfast outing along a 6 mile stretch of road towards Namling, which is one of the best sites for Satyr Tragopan. Other interesting birds here include Chestnut-bellied Rock Thrush, Hodgson's Treecreeper, Green Shrike Babbler and Red-headed Bullfinch, and we also try for 'super skulkers' like Bar-winged Wren Babbler, Scaly-breasted Cupwing and Chestnut-headed Tesia. Although elusive, Red Pandas also live in the forest here! Depending on timings, we either return to the camp for breakfast or have a picnic breakfast along the way before spending the rest of the day around the Phrumshingla pass, with breathtaking views of the Himalayas, including Bhutan's highest peak, the unclimbed Gangkar Puensum. We search here for more high altitude birds like Rufous-breasted Bush Robin, Fire-tailed Sunbird, Great and Fulvous Parrotbills and the stunning Blood Pheasant.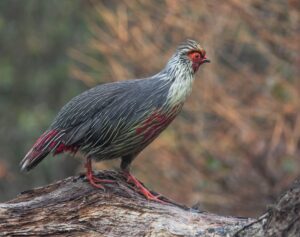 Blood Pheasant
Day 12 Moving on, we cross the Phrumshingla pass, with its large stupa decorated with fluttering prayer flags. This is prime habitat for Blood Pheasant and other high altitude birds like Snow Pigeon, Stripe-throated Yuhina and White-browed Fulvetta and we may also have our first encounter with one of the most colourful pheasants of them all, the fabulously iridescent Himalayan Monal.
Himalayan Monal
After a morning's birding around the Phrumshingla pass and a picnic lunch along the way, we continue our journey westward into Bumthang District, along the Ura valley, to the Hotel Ugyenling in Jakar at an altitude of 8599 feet.
Day 13 Today we have a three hour journey along the Chume valley which is famous for distinctive woollen weaves called Yathra. In the village of Zugney we will see women working their looms beside the road, with fine examples of Yathra hanging by the roadside. Further on, the road climbs to Yotong La pass at 11482 feet and birds along the way include Black-faced Laughingthrush, Alpine Accentor, Grey-sided Bush Warbler, Brown Parrotbill and Beautiful Rosefinch.
Brown Parrotbill
We arrive in Trongsa in central Bhutan in time for lunch at the Yangkhil Resort where we shall be staying this evening at an altitude of 7119 feet. After lunch, we have an optional visit to the impressive seventeenth century Trongsa Dzong, the largest fortress in Bhutan and ancestral home of the royal family. The rest of the afternoon will be spent exploring the nearby forest in search of specialities like Spotted Forktail, Grey-bellied Tesia and Spotted Elachura.
Day 14 We have a six hour journey southwards to Tingtibe Tented Camp, where we spend three nights at an altitude of 1640 feet in the remote Zhemgang District. Early birds along the way may include Black Eagle, Great and Golden-throated Barbets, Little Forktail, Long-tailed Shrike and Crested Bunting. Zhemgang District is one of the most forested regions of Bhutan where likely birds include Rufous-bellied Eagle, Asian Barred and Collared Owlets, Blue-bearded Bee-eater, Spot-winged Starling and Common Green Magpie plus Grey-chinned, Short-billed and Scarlet Minivets. This area also offers our best chance for the rare Golden Langur, which is almost endemic to Bhutan, and only discovered in ​the 1950s!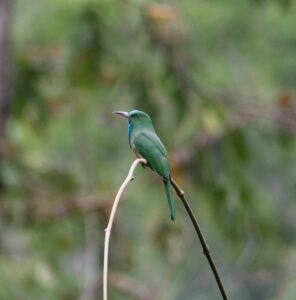 Blue-bearded Bee-eater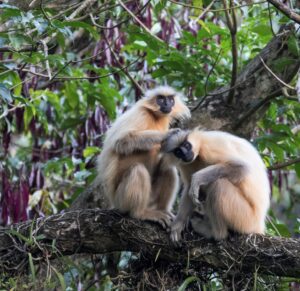 Golden Langurs
Days 15 & 16 We have the luxury of two full days birding the Gomphu road that leads to Royal Manas National Park, the oldest national park in Bhutan. The sub-tropical broadleaved and Bamboo forests here have some of Bhutan's rarest and most sought after birds such as White-hooded Babbler, Eyebrowed Wren Babbler, Rufous-vented Laughingthrush, Collared Treepie, Green Cochoa and the massive White-bellied Heron, which is probably Bhutan's rarest breeding bird, with a global population of less than 200 birds! There are quite a few lookouts over the Mangde Chu river where we can search for this exceedingly rare heron.
White-bellied Heron
Other gems in this highly productive area include Crested Serpent-Eagle, Emerald Dove, Spot-bellied Eagle Owl, White-browed Piculet, Pale-headed, Fulvous-breasted and Grey-capped Pygmy Woodpeckers, Grey-throated Babbler, Mountain Tailorbird, Yellow-bellied and Rufous-faced Warblers, Red-headed Trogon, Bar-winged Flycatcher-Shrike, White-bellied Erpornis, Bronzed and Lesser Racket-tailed Drongos and Long-tailed Broadbill.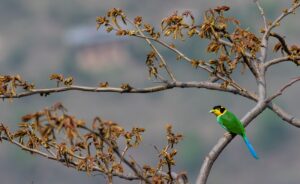 Long-tailed Broadbill
Day 17 This is a transit day with a seven hour drive as we retrace our route north back to Trongsa, stopping for any interesting or missing species we come across. Beyond Trongsa we head west across two high passes into the Phobjekha valley, which is the feeding ground for rare Black-necked Cranes which migrate here each winter, but as they usually leave at the end of March, they may have already returned to Tibet. Journey's end is the Hotel Dewachen in Phobjekha at an altitude of 9842 feet.
Day 18 Today's three hour journey continues westward to the Pelela pass to spend the morning birding along an old abandoned road where the open meadows and Rhododendron forest are good for birds like White-throated Redstart, Spotted Laughingthrush, White-winged Grosbeak and White-browed and Dark-rumped Rosefinches, with another chance for Himalayan Monal. From here we drive along the Punatshang Chu river where we may find birds like Ruddy Shelduck, Pallas's Fish Eagle, River Lapwing, Crested Kingfisher and the unique Ibisbill.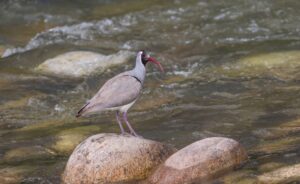 Ibisbill
Later this afternoon en-route to the Punatshang Hotel for a two night stay in Punakha at an altitude of 3937 feet, the Pho Chu river offers another chance for the rare White-bellied Heron.
Day 19 We spend the day exploring Jigme Dorji National Park and the Mo Chu river, where possibilities include Oriental Turtle Dove, Himalayan Swiftlet, Ashy Drongo, Small and Large Niltavas, Whiskered Yuhina, Slaty-backed and White-crowned Forktails, Blue Whistling Thrush, White-capped Water Redstart, Rufous Sibia, Verditer and Grey-headed Canary Flycatchers, Green-backed and Black-throated Tits, Rusty-flanked Treecreeper, Rufous-chinned Laughingthrush, Grey Treepie, Red-vented and Black Bulbuls and Ashy-throated and Chestnut-crowned Warblers.
Day 20 This morning we visit the impressive Punakha Dzong Palace of Great Bliss at the confluence of the Pho Chu (male) and Mo Chu (female) rivers. It is the second oldest and second largest monastery in Bhutan.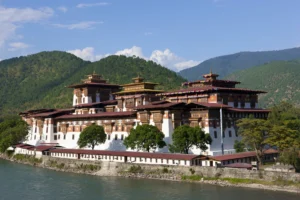 Palace of Great Bliss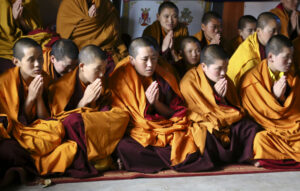 Buddhist monks
We now leave the sub-tropical Punakha Valley on a three hour journey ascending through mixed evergreen and broad-leaved forests to the Lamperi Botani­cal Park for a walk in search of any birds we may still need in this habitat such as Wedge-tailed Green Pigeon and Blue-fronted and Hodgson's Redstarts. We continue our journey over the Dochula pass. At 10333 feet with numerous decorated stupas and panoramic views of the Himalayas, this is said to be the most beautiful pass in the entire country. Next stop is the Babesa Sewage Pond which is one of the easiest places to see the Ibisbill as well as a variety of other waders. Journey's end is the Namgay Heritage Hotel in Thimphu at an altitude of 7874 feet.
Day 21 It is a two hour drive to the base of the Tiger's Nest monastery, Bhutan's most scenic icon, where we have an optional hike to one of the most beautiful temples in Bhutan at an altitude of 10778 feet. The 'nest' has been a spiritual site since the eighth century and is the tenth holiest site in the Buddhist world. From the parking area, it takes about an hour to the tea house, where refreshments are provided, and then another hour and a half to the temple, so in total, the 2.6 mile hike takes the average person about four hours. Our base for the remaining two nights in Bhutan is the Hotel Olathang in nearby Paro, at an altitude of 7900 feet.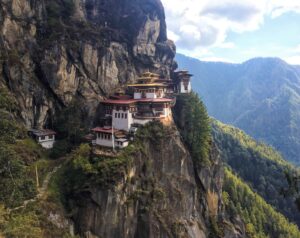 Tiger's Nest Monastery
Day 22 We have a three hour drive to the cool alpine meadows of Chelela pass with a picnic lunch along the way. At 12762 feet, this is the highest drivable pass in Bhutan where possible birds include Kalij Pheasant, Lammergeier, Rufous-bellied Woodpecker, Himalayan Bluetail, White-browed Bush Robin, Collared Grosbeak and Plain Mountain Finch, with another chance for Blood Pheasant and Himalayan Monal.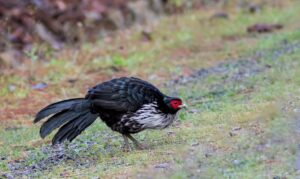 Kalij Pheasant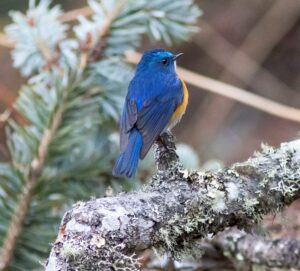 Himalayan Bluetail
This afternoon, we return to our hotel in Paro, with free time to explore the town before dinner and a final roll call of the birds seen today.
Day 23 We transfer to Paro airport, say goodbye to our local guide and check in for a 10.30am flight with Bhutan Airlines to Delhi (to be confirmed once schedules are known). We arrive in Delhi at 12.20pm and transfer to the nearby Hotel Emerald Park, with free time this afternoon before dinner this evening.
Day 24 We depart Delhi at 8.40am on a flight with Virgin Atlantic to Heathrow, arriving at 2.05pm.
Cost; £8245  Only 4 places left.            Single supplement; £535            Deposit; £2500
What the price includes:
Return flights from Heathrow to Delhi with Virgin Atlantic, Indigo Airlines flight from Delhi to Guwahati and Bhutan Airlines flight from Paro to Delhi (to be confirmed), twenty nights' full board accommodation in Bhutan, two nights' half board accommodation in Delhi, airport transfers in Delhi and Guwahati, all transport and entry fees in Bhutan, bottled water in Bhutan, Bhutan visa fee, Bhutan Tourist Tax, field checklist and the services of your guides.
Additional information:
The flight time from Heathrow to Delhi is 8 hours 50 minutes and the return flight takes 10 hours. The flight times from Delhi to Guwahati and from Paro to Delhi are both 2 hours 20 minutes.
UK citizens can apply online for an eVisa to visit India which costs about £91. Your Bhutan visa will be arranged and paid for by Wild Nature Quest.
Local currency (Ngultrum – BTN) can be obtained upon arrival in Bhutan.
It is advisable to be vaccinated against Hepatitis A, Typhoid and Tetanus. There is little or no risk of Malaria.
In Delhi in March, daily temperatures range from 15 – 29°C. In March the total rainfall is 0.6 inches which is less than half the amount we get in the UK in March, with a 10% chance of rain each day.
In Bhutan the climate varies widely according to the altitude, but as a guide, in March in the capital Thimphu, at an altitude of 7500 feet, daily temperatures range from -2 – 13°C. March is at the end of the dry season and the total rainfall is 4.4 inches which is about three times the amount we get in the UK in March, with a 50% chance of rain each day.
In Bhutan we will be staying in twelve simple but clean and comfortable accommodations, including some tented camps in the more remote areas. All the hotel rooms have private bathrooms.
We shall be walking about 3 – 4 miles each day and so clients need to be moderately fit.
We can expect to see around 300 bird species plus 10 – 15 mammals, with great photo-opportunities along the way.
Each evening, there will be a roll call of the birds and mammals seen during the day.
The itinerary may need to be revised according to weather conditions, local circumstances, sightings and the advice of our local guide.