Iceland is 'out of this world'.
The sheer volume of birds here is staggering, with an estimated six million Puffins alone, and nowhere else can you see Great Northern Diver, Barrow's Goldeneye and the stunning Harlequin Duck breeding outside North America, except for this European outpost, and if we are really lucky we may even relocate the pair of Snowy Owls we found last year! Yet there is even more to this unique country; glaciers, an uninhabited stony desert interior, volcanoes, lava fields, countless waterfalls, a geysir which blows its top every few minutes, steaming fumaroles, bubbling hot springs, boiling mud pots and spectacular cliffs jam packed with seabirds, with various whales offshore. Even non-birding partners will love this trip. So, prepare for an amazing journey, during the 'white nights' of June.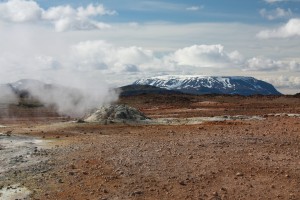 You can fly with Icelandair, from either Manchester or Heathrow, to Keflavik. Once landed we drive north to the Snaefellsnes peninsula, where the rugged coastline is home to five species of Auk, including Brünnich's Guillemot, as well as Purple Sandpiper, Arctic Skua, plus Iceland and Glaucous Gulls. From our two night base in Stykkishólmur, we take a ferry across Breidafjördur Bay to Flatey Island, where we land in search of the rare Grey Phalarope, resplendent at this time of year in deep red breeding plumage! Other birds here include Redwing, Snow Bunting, ridiculously tame Red-necked Phalarope and loads of Arctic Terns. After an exploration of the Snaefellsnes peninsula, we head east through a spectacular landscape, including Godafoss, where the Skjáfandafljót river cascades over one of the most impressive waterfalls in Iceland. Next, we have the luxury of three nights in our second hotel on the shores of Lake Mývatn, famous for its wealth of wildfowl, such as Whooper Swan, Greylag Goose, and fourteen duck species including Barrow's Goldeneye, Harlequin, Long-tailed Duck and Common Scoter. Other birds to hope for here include Great Northern Diver, Slavonian Grebe, Gyr Falcon, Merlin, Ptarmigan, Golden Plover, Whimbrel, rusty red Black-tailed Godwits, Short-eared Owl and Common Redpoll. Nearby are the unearthly landscapes of Nàmafjall and Leirhnjúkur, where the steaming yellow earth and black lava will make you wonder what planet this is. We also drive into a desolate monochrome lunar-like terrain to look for Pink-footed Geese and to experience the awesome power of Dettifoss, as tons of glacial melt water pour 148 feet over Europe's mightiest waterfall! Next we enjoy a whale watching trip in Skálfandi Bay, hoping for close views of Humpbacks, Minkes and White-beaked Dolphins. In 2018, these cruises had a success rate of 99.2%! Heading south, snow conditions permitting, we cross the uninhabited interior, where the tundra is home to Arctic Foxes and hopefully 'my' Snowy Owls! Next we do the 'Golden Circle', a selection of 'must see' locations like the famous Geysir, which regularly spouts as high as a house, Thingvellir, where the American and  European tectonic plates are slowly tearing Iceland apart, Gullfoss, where the torrent crashes 108 feet over two tiers of rock, and finally, some sightseeing time in Reykjavík. After our last night here we catch a morning flight back to either Manchester or Heathrow.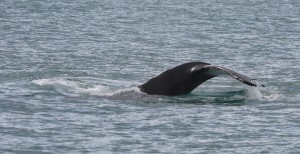 Humpback Whale
Cost £2475 ( or pay at least £500 more with another company! ) Waiting list only.
What the price includes:
Return flights from either Manchester or Heathrow, to Keflavik with Icelandair, eight nights' half board en-suite accommodation, all transport in Iceland, whale watching trip, return ferry to Flatey island, bird checklist and guidance.
Deposit: £500
Single supplement: £590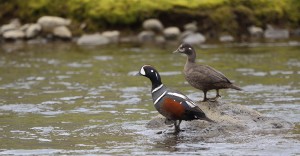 Harlequin Ducks